Gyorgy Faludy, and No, Not the Crocodile Hunter!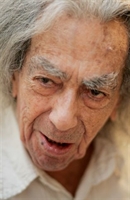 Just read
the headlines
that Hungarian poet Gyorgy Faludy died at the age of 95. Faludy was an important translator of Villon, before he gained fame as a post-war dissident poet. His
latest interviews
bemoaned the fall of "high" literature as a central force in Western culture.
While I might argue against some of Faludy's views about the standing of literature (mostly to deal with whether or not it ever held that centrality in popular culture), his passing is sadly, perhaps aptly, overshadowed by the news of the death of Steve "Crikey!" Irwin, the Australian "Crocodile Hunter," and his all too apt death by the barb of a stingray (the power of Karma). Yes, Irwin did couch his manic antics with all the proper environmental messages, but his very intrusion into nature was so bloody wrong--all about inquisition, intervention, and shouting, amid all his mostly staged encounters with the natural world.